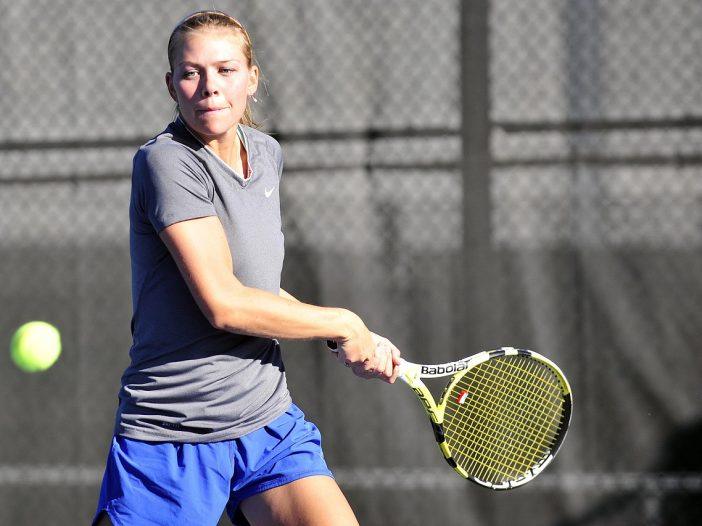 Tennis is a great cardiovascular activity that builds strength, coordination, endurance, power, and balance.  Though it's not a high contact sport, there are still a variety of injuries that can befall tennis players.
Most people have heard the term tennis elbow, but it's actually one of the less frequent injuries suffered by tennis players.  In fact, the majority of people who suffer from tennis elbow don't actually play tennis!  Other, more common, injuries include: wrist injuries, rotator cuff tendonitis, back pain, and injuries to the knees, calves, ankles, and achilles tendons.
Most injuries to the arms and back are due to the motion and force of swinging the racket. These injuries are more common when using an ill-fitting racket, racket strings that are too tight, and poor technique. Leg injuries are generally a result of frequent stop, starts, and pivots.
If you play tennis and you start to experience any sudden or intense pain, or pain that lingers, you should stop playing and make an appointment with a physiotherapist. Meanwhile, you should rest the affected area and apply ice to help reduce and prevent swelling and alleviate pain. Alternate ice with heat to promote healing and relax the muscles. Elevation and compression can also help with swelling.
A physiotherapist or doctor will evaluate the extent and nature of the injury and discuss treatment options to help maximize healing and prevent reinjury. Physio care can be a very effective approach to treating most tennis injuries.
Physiotherapists will look for any underlying issue, perhaps one that seems unconnected, that may have contributed to the injury.  For example, in some cases, tennis elbow may be traced to a problem in the neck.  Physiotherapists are specially trained to look at the whole body and find these possible problems and treat them, minimizing the risk of future injury.
After evaluating the injury and looking for any possible underlying issues that may have contributed to the injury, your physiotherapist will recommend a treatment plan. There are two goals of physiotherapist treatment: healing the injury and minimizing the potential of being injured again.
Initial treatment may include some combination of mobilisation, massage, ultrasound therapy, stretching, or dry needling (a technique similar to acupuncture). You should rest the injured area until it is sufficiently healed in order to avoid aggravating the injury.
At some point, your physiotherapist will recommend a series of exercises that will help you regain and increase your strength and flexibility in the affected area as well as in other muscles that can help support the injured area. These can all help you prevent future injury.
If you play tennis, you should consider consulting with a physiotherapist. If you have experienced any pain, a physiotherapist can determine whether you have experienced an injury and help you heal. If you have not suffered injury, even if you are not experiencing any pain, a physiotherapist can help you protect yourself to reduce your risk of injury as much as possible.